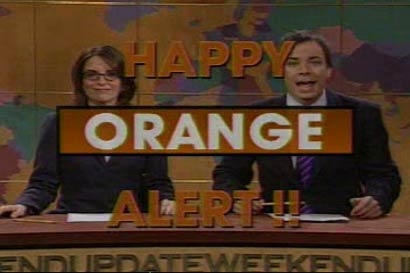 Hey folks! I'm back from a long weekend of...movies. I actually saw several films this weekend, and I'm still surprised I saw that many. In order, I saw...
- Dark Knight (in IMAX)
- Batman: Gotham Knight
- Mamma Mia
- Lions for Lambs
- Wall-E (again)
It was an interesting weekend, filled with relaxation, enjoyment, dread, disappointment, and rushing to meet showtimes. In other words, it was a typical weekend, but another good one. Though I will say this, it's good to be back here with all you fine, fine people.
Expect a chronicle of one of this weekend's more perilous exploits (if you've read the list of movies from this weekend, you'll know what I'm talking about.) and, of course, Part V of The Devil v. George W. Bush.
(I apologize for the presense of my Late Night archnemesis, Jimmy Fallon. Just deal, it's all we fucking can do at this point.)