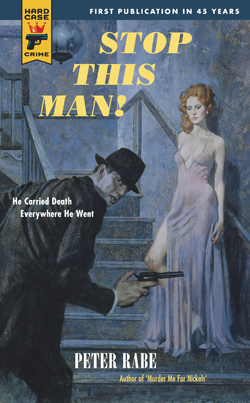 Disclaimer: This was a book given to me as a review copy by the fine folks over at Hard Case Crime. I'm not getting paid for this, but if you're into

Noir

storytelling (both modern and classic), then I highly recommend visiting their website and checking out their selection of novels.
I've always had a thing for black and white, and I've always had a love for a good Film
Noir
story. I trace it all back to the fact that I loved Who Framed Roger Rabbit as a kid. I loved that movie so much, I'd watch my VHS copy constantly over the many years of my childhood. There was always something about a detective attempting to take down a system bigger than themselves that got me excited. As I grew up, I became more exposed to classic films and eventually learned that Roger Rabbit was scratching the surface of the genre. Film
Noir
wasn't always as clear cut or as happily ever after as killing Judge Doom. Sometimes, Judge Doom won; and in other cases you were reading about Judge Doom as he evaded the authorities and continued his life of back alley crime, always aware that the hammer could come down on him in a heartbeat if he wasn't careful.
It's that second type of story that's being told in the book
Stop This Man!
Anthony "Tony"
Catell
, is a career criminal who's just been released from prison for the second time. What some would see as an lesson learned, Tony sees as an opportunity to get back on the horse one last time and press his luck. This leads to his involvement in what he thinks is a simple heist, but turns out to be a much more complicated ordeal. Tasked to steal a gold ingot from a university science lab in Detroit,
Catell
encounters minimal interference and makes off with the loot. Unfortunately for all involved, the gold was easy to steal because it was irradiated due to an accident in the lab. Irradiated to the point that it's lethal to be around for too long. Soon people start to die, and it's up to Tony to evade capture as he high tails it to Los Angeles in order to fence the loot, get his fair share, and walk away for good.
Unfortunately
for him, the road to the City of Angels is paved with demonic pitfalls and even more devilish obstacles.
I absolutely loved this book. I couldn't help but see it come to life as I'd flip through the pages, absorbing the tale of one man's greed and just what lengths he'd go to satisfy it. Tony
Catell
is a bad ass. He kicks, grabs, and busts any ass in his way; just like any main character in a well written
noir
should. Whether you like him or hate him, the lengths he goes to in order to get the job done are quite perilous, as well as quite impressive. Just as his protagonist deftly navigates through the dames and
heavies
that populate this post atomic backdrop of sin, Peter
Rabe
navigates his way through prose with every punch, every kiss, and every
grift
. This novel is a genuine product of its era, and this is what makes it such a joy to read. Written in an era where post modern shortcuts and in-jokes didn't exist just yet, it's a simple black and white read. Good guys are good, bad guys are bad, and you ultimately choose which side you're on within the opening moments of the book. No matter who you root for though, this novel unfolds like a lost classic from the vaults of a major Hollywood studio, and doesn't rest until the final word.
First published in 1955,
Stop This Man!
made its return in August of 2009 after 45 years of being out of print. This isn't something new for
Hard Case Crime
, as they have multiple titles finding their way to print for the first time in years, alongside titles that are seeing print for the first time ever. It's this blend of the past and the present that makes
Hard Case Crime
a really cool publisher to look out for. Contemporary authors like Stephen King and Max Allen Collins join the ranks of Donald
Westlake
, Mickey Spillane, and even Sir Arthur Conan Doyle (or A.C. Doyle as he's credited) to make a most unique publishing imprint. I was surprised that Charles
Ardai
, the man who founded this enterprise, is only ten years older than me. A former Dot Com millionaire, he cashed out of Juno after a merger and used his capital to form the company that stands today. I can't wait to read another Hard Case novel, because there's quite a few I'm dying to crack open. If you've got an insatiable craving for seedy, sinful mysteries with hard nosed detectives searching for the truth, or tales of mugs making their way cross country to earn a lousy buck; this is the place to be.
I'm currently reading: Worst Case by James Patterson with Michael

Ledwidge