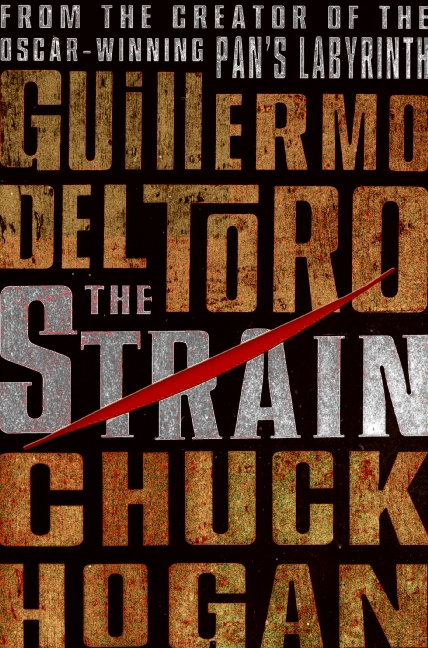 In celebration of the publication of
Abraham Lincoln Vampire Hunter
(being distributed by my good friends at

Hachette

Book Group)
,
I've taken it upon myself to sample some modern vampire lore. Real vampires mind you, not the fake sparkling variety. With that in mind, please enjoy the first of five (so far) book review entries in the reading marathon cleverly (or not) named "Vamp-O-Rama".


I need a copy of
The Fall
now. It's not an exaggeration, it's not some cute attempt at becoming the heir to Pete Hammond's ass kissing throne, I literally want to read
The Fall
right now. Simply because the ending of
The Strain
leaves the story in a place that begs to be continued, and not with just a cheap cliffhanger but with an uneasy feeling of a storm brewing in the distance.
The book opens with an Old World fairy tale being told to little Abraham
Setrakian
, the boy who will grow up to be a bad
assed
intellectual/Vampire Slayer. The story, naturally, is about the origin of
vampirism
in Europe and how a noble family fell member by member into the dark curse that will soon plague New York, and eventually (if the book holds to its promise on the dust jacket, as well as the title of the next installment) the fall of Mankind. Throughout the book we get interludes into the life and
development
of
Setrakian
, which is an interesting B-story; however it is not the A-story.
That honor goes to the aftermath of a Boeing 777 landing at JFK airport, but somehow shutting completely down after landing. The aircraft goes dark, all the shades are drawn, there's no sign of life, and a mysterious casket is found with some rather grim carvings displayed. This puts the
CDC's
elite team of specialists (code named Canary) on alert. Their leader: Dr. Ephraim "
Eph
"
Goodweather
. Their job: to suppress a viral outbreak before it leaves the airport. Their success: obviously a failure, if you want a trilogy. What starts as an unexplained event that killed all but four souls aboard, turns into the
beginnings
of a viral
vampiric
plague that threatens to destroy Mankind.
The Strain
is a collaboration between acclaimed film director
Guillermo
Del
Toro
and crime writer Chuck Hogan that not only uses real vampires but upgrades them using some specifications Mr. Del
Toro
had used in Blade II. (The Reaper Strain used in the film is extremely similar to the description of the vampires in this book.) These are not vampires you'd want your daughter to go running in the woods with, these are nasty, filthy, dangerous vampires that burn in the Sun and can sense your heart beating and your blood coursing through your veins. What's more, by the end of this book a Vampire war seems imminent and not the "show up out of nowhere and leave just as quickly" type. More like the "hard scrabble, three factions against each other, anyone could die" type. Indeed, a good portion of this book deals with vampire violence and feeding; so I wouldn't recommend this for the Sparkletards. (Unless you want to jolt them back to reality with a heavy dose of blood and scares.)
This book is a slow burn, as all good "Part I" stories should be. Thankfully, this book avoids the "Part I" curse of being too heavy on the backstory and not heavy enough on the action. It sets up the universe, establishes the characters and puts them through the paces, only to set them in place for the next round by the end of Round 1. It doesn't feel forced, it doesn't seem short changed, it actually hits a happy medium of storytelling many aspire to, but few actually execute. It definitely helps that Del
Toro's
disciplines as a supernatural storyteller are blended with Hogan's skill set as a mystery writer in such a way that neither end gets robbed of its fair share of plot.
Where this book excels though is the disturbing nature of the events and creatures that inhabit the text. Though it is only the first part of the series, it moves with enough action and at a fast enough clip to remain just as intriguing as any second installment of a trilogy would. Which brings us back to the original point of order...I really want to read a copy of
The Fall
right about now. I've contacted the publisher, and hopefully they'll get back to me with a yes or a no; but either way I really want to read the next instalment simply because the first was such an addicting read.
The Strain
is one of those rare books that I have no problem raving about and recommending an automatic buy, simply because it's both original and extremely enjoyable to read.
(Also, if you get the chance, go rent Blade II. It's the best entry in the series, and you'll have a good frame of reference for what theses vampires look like. Either that, or go to the book's official website for some interactive bits.)
The Vamp-O-Rama Line Up continues...

1. The Strain by Guillermo Del

Toro

and Chuck Hogan
2. The Nymphos of Rocky Flats by Mario Acevedo
3. Vampire Zero by David Wellington
4. Bloodsucking Fiends by Christopher Moore
5. Abraham Lincoln Vampire Hunter by Seth Grahame-Smith